River, Dam, Erosion control
Diagnostic analysis of sluice gate and pipe
Inspection results of the sluice gate and pipes were made into a database.
Based on this, we analyzed the relationship between the internal degradation of concrete and the surface deterioration and reviewed the soundness evaluation.
We made a manual (draft) on "crack repair" of sluice gate and pipes.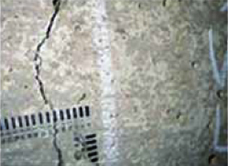 Crack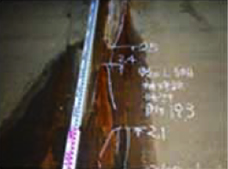 Leakage, Steel rust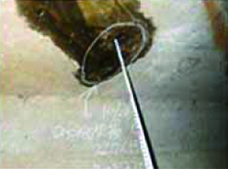 Missing parts
Overall inspection of dam
The safety of the dam was confirmed from the damage data of the dam main body and peripheral margin, leakage volume, and lift pressure. Then we showed the policy of prolonging the life.
We have summarized "Soundness evaluation of cut-off walls and future maintenance policy (draft)" etc.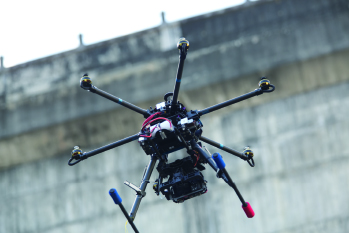 Dam inspection using drone
Watershed monitoring using erosion control data
We constructed a watershed monitoring system based on sand and hydrological observation data.
And then we investigated the possibility of sediment-related disasters and indices of evaluation of sediment production situation.
We added the items of slope collapse and debris flow to "Guidelines for watershed surveillance on sediment-related disasters (draft)".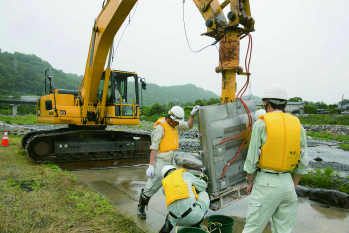 Portable type flow sand observation device
Road , Traffic
Study on measures against snow and ice on expressway
On the expressway, we examined the snowplowing system, snow removal method, snow removal route, etc. to secure road traffic early in the event of heavy snowfall and a snow removal manual was prepared.
In addition, we devised a training plan for snow removal activities and conducted training management.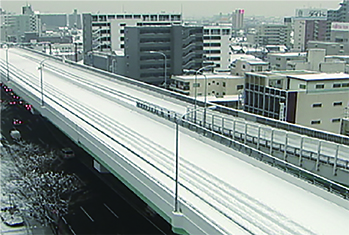 Road closure due to snow
Redistribution of road space, Tourism use
We reviewed the development plan for improving the use environment of bicycles as spatial redistribution of roads accompanying the decrease in traffic volume.
We optimized road signs, examined notation method and design corresponding to internationalization of tourism.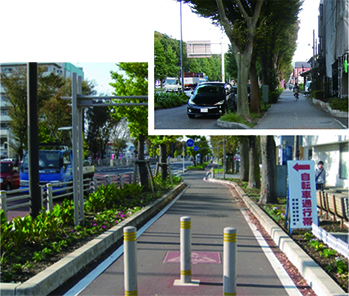 Before and after redeployment of road space
Landscape-conscious road planning and design
We used VR to predict and evaluate the landscape so that local residents can easily imagine it, examined landscape maintenance policy, and designed the road for preserving the historical landscape and form a roads landscape that can be utilized for regional creation.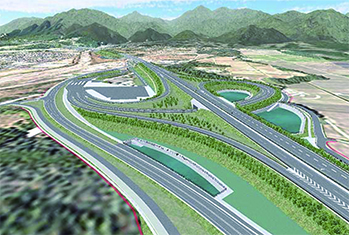 Landscape image using VR
Disaster prevention
Road management assuming large-scale tsunami
We have compiled the guidelines for creating "Timeline of road management for large-scale tsunamis (disaster action plan)"for road administrator.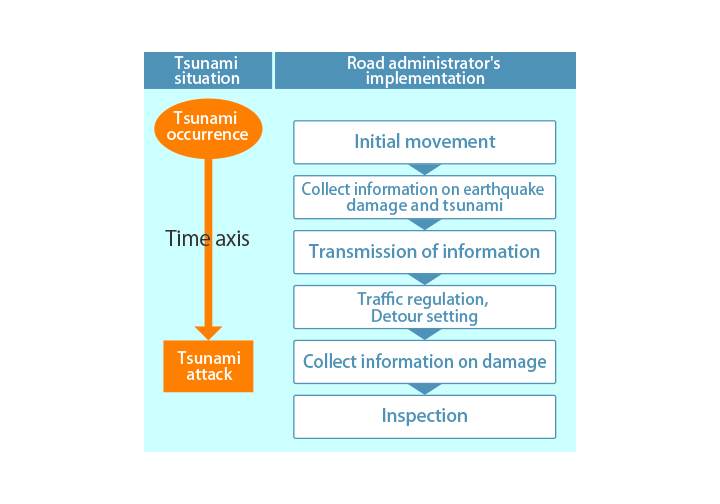 Road administrator's implementation
Flood disaster resistant community development
We analyzed the inundation range using synthetic aperture radar (SAR) satellite data with the aim of obtaining verification data of flood analysis including internal water about the flood that occurred in the Omonogawa River.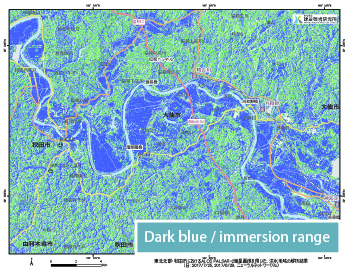 SAR analysis result in flood damage area in Tohoku area
Water transport base examination
We examined the development of a water transportation base in the coastal area of the Tokyo port.
We examined the operation manual (draft) of the base at the time of a disaster, the system and rule of use at normal times in order to supplement the land transport cut in case of a disaster such as earthquake.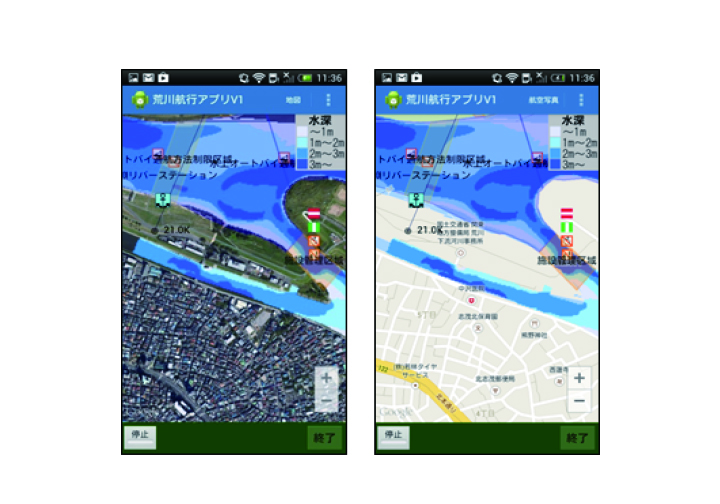 River navigation application
City, Area
History Environment Conservation,Utilization
We examined the environmental improvement plan considering conservation and dissemination of the Ainu culture environment about the dam undergoing maintenance in Hokkaido.
We also examined the utilization policy utilizing historical and cultural assets also at Heijo Palace Historical National Park.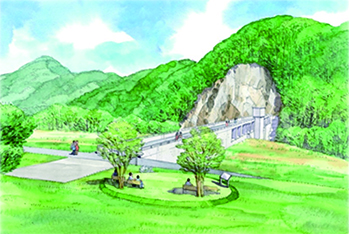 Regional creation and natural regeneration
At the dam water source site, we developed a community-led regional revitalization plan.
We have compiled a regional plan where civil historical assets coexist with the natural environment, and an ecological network plan based on stork about Tone Trough.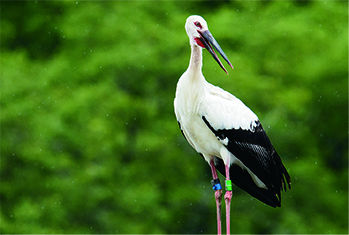 Stork
Promotion of inbound
As a sightseeing promotion utilizing the national park, we planned and implemented an experience tour in international parks and surrounding tourism resources for foreign students.
Based on the opinions of participating international students, we examined inbound promotion measures, such as information dissemination to foreign tourists.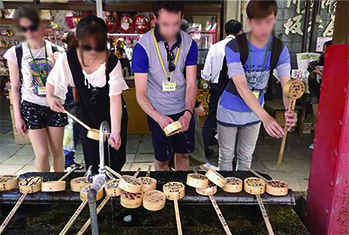 "Hand water" experience at the shrine
Environment
Renewable energy support
To promote renewable energy power generation business that contributes to the control of global warming, we implemented survey of suitable sites such as wind power generation, photovoltaic power generation / geothermal power generation, low-frequency impact analysis, environmental assessment, and an accelerated demonstration project on environmental assessment (NEDO).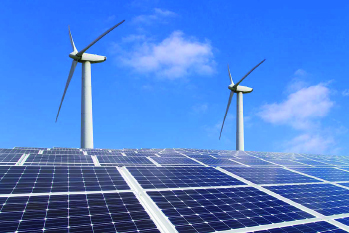 Natural environment survey
We conduct environmental surveys of nature, scenery, noise, etc. of rivers and roads throughout the country.
That environmental information was utilized as a prerequisite for various infrastructure developments, and also conducted a survey of the planned place of the Tokyo Olympic Games and the Paralympic Games.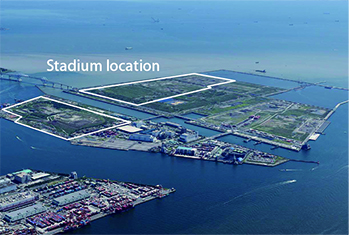 Tokyo Olympics, Paralympic Area
Water quality improvement such as dam lake
We have clarified the mechanism of occurrence of water bloom and fungus phenomenon in dam lakes etc. from the identification of causal algae and flow simulation.
We developed an effective monitoring system to suppress the generation of algae and proposed aeration operation method.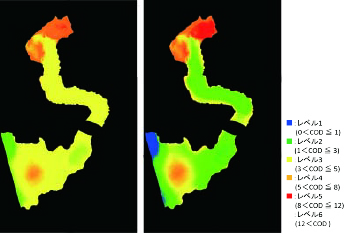 Image Analysis of Dam Lake Water Quality
Environmental measurement
Water quality analysis, Accident countermeasure
We have constructed a system to conduct searches and spread prediction of causal substances discharge sites at the occurrence of water quality accidents utilizing the experience of water quality survey in the Tone River, Arakawa, Tama River water system.
We also made it possible to retrieve offices according to chemical substance names and to easily predict flowing time.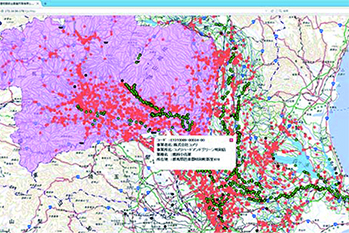 Image of search for water quality accident cause discharge site
Air quality, noise measurement,soil analysis
We conducted a survey of air quality, noise and vibration as part of environmental impact assessment. We conducted a soil analysis for Tsukiji market transfer destination, river and dam dredge of soil reuse and improvement of water quality.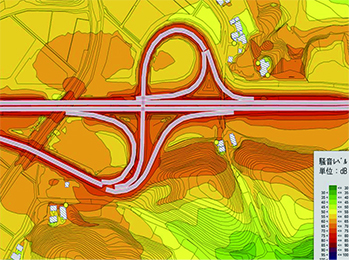 Prediction of noise level
Environmental DNA analysis
We identified the distribution area of the submerged plant water weed such as elodea (cautionary alien plant) in the river using the method of environmental DNA analysis for confirming the validity of environmental DNA analysis.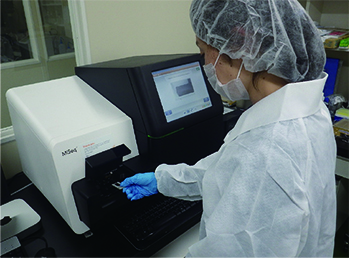 Quantitative determination of biomass by DNA